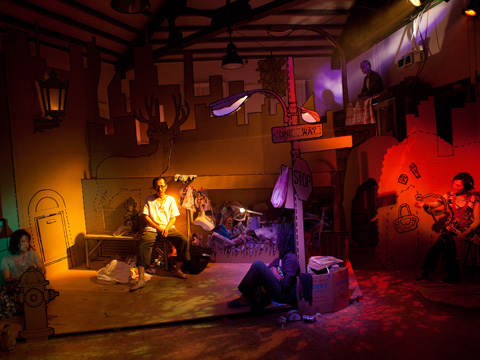 © photo: Chen You-Wei
Watching Dust
2010
Interdisciplinary
60 minutes
Guling Street Avant-garde Theatre, Taipei, Taiwan
Concept and produced by Hong-Kai Wang. Directed by Keng Yi-Wei. Music by Chen Bor-Wei. Sound Design by Wang Fu-Jui. Stage & Lighting Design by Lin Yu-Chuan. Performed by Chuang Yi-Tseng, Wadan Wuma, Chang Manshu, Chiang Chun-Nian and Wen Hsiao-Mei.

Videographed by Yan Lan-Chuan (Chuang Yi-Tseng in act "Angel of loneliness")
Prologue of Watching Dust
By Hong-Kai Wang

In 2007, I started discussing with Taipei Women's Rescue Foundation in Taiwan the possibility of collaboration in hopes of developing an art project for the surviving Taiwanese "comfort women"- women forced into sexual slavery in Japanese military brothels during World War II. After watching the avant-garde composer Robert Ashley's opera Dust at La Ma Ma Theater in January 2009, the idea of an interdisciplinary project Watching Dust began to take shape.

The surviving Taiwanese comfort women, now in their late 80s and early 90s, are faced with their inevitable mortality. In speaking with them, I found that most of them simply want to live their remaining years like other elderly people without the stigma of their past. The social setting of gatherings organized by the Foundation serves a paradoxical function between helping these women forget and remember their collective experience. In documentaries, political campaigns, public discourses and art works, they are protagonists in reality, history and fiction. Watching Dust was conceived for these women- here, they would watch other people's stories being told on stage and thus become solely the audience.

In the autumn of 2009, I met Robert Ashley in his studio in Tribeca, New York. He told me that Watching Dust was a wonderful project and that he was perfectly happy to let me adapt it into a Taiwanese version in any way I see fit. He said that since he didn't understand Chinese, he would love a copy of all the relevant documentations for his archive. Mr. Ashley has worked with English words all his life. I guess that it should be quite special for him to listen to his characters sing/speak in Mandarin Chinese and Taiwanese.

In Dust, the setting is a street corner where five characters at old age who live on the fringes of society gather to recount their memories to each other and to themselves. The characters speak in musical tones, with pre-recorded Western pop melody in the background. Words in Dust are colloquial and melodramatic but reveal poignant, heartfelt personal reflections on life made by the composer through his characters.

Adapting Dust into Watching Dust involves largely how to explore the musicality and marginality in our own language. Luckily, theater director Keng Yi-Wei quickly agreed to come on board and subsequently invited other artists from various disciplines to collaborate. Yao Lee-Chun, director of Guling Street Theatre, has generously provided the performance space.

Mr. Ashley states in Dust's program note, that he "imagines a place not really noticed, anywhere in the world. Some of us gather there to talk to each other and to ourselves, about things that changed our lives, missed opportunities, memory, loss and regret. Some of us have no other place to live". Appropriating the sentimental nature in Mr. Ashley's Dust, Watching Dust attempts to envisage a vicarious emotional space at an ordinary place in Taiwan, where audience can watch several fictional characters contemplating pain, agony, annihilation, relief, and eventually, grace.