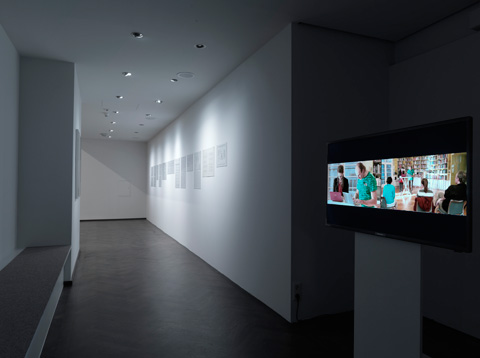 Photo: Hannes Böck
What's the musical consequence of change?
2013
Performance, mixed media
art is: new art, Arnold Schoenberg Center, Vienna
Composers: Anahita Abbasi, Angélica Castelló, Margareta Ferek­-Petric, Tamara Friebel, Samu Gryllus, Mirela Ivicevic, Kami Marques, SukJu Na, Fernando Riederer, Simon Vosecek, Yukiko Watanabe and Ruei-­Ran Wu
Soprano: Gaia Mattiuzzi
Baritone: Andreas Jankowitsch
Alluding to Schoenberg's use of spoken words and twelve-tone composition technique, What's the musical consequence of change? invites twelve Austria-based expatriate composers to share their reflections on crossing the visible/invisible geopolitical borders in a self-organized conversation. Based on the audio recording of the conversation, each composer is asked to produce a short voice-based score.

The twelve resulting scores are grouped into a song cycle and performed at an open laboratory. At the open laboratory, the audience is invited to witness the twelve musical articulations unfolding over the course of discussions, rehearsals and performances in a language shaped by memory, thought and circumstance.

The video documentation of the laboratory showing the composers' work-in-progress is on view, alongside the twelve written scores.