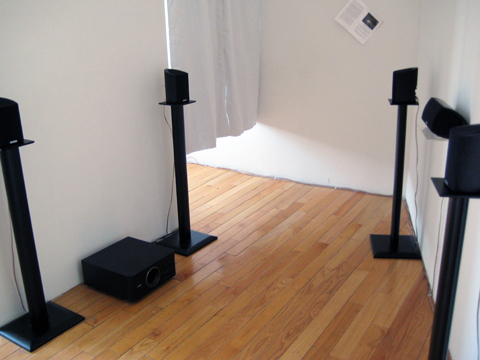 (Excerpt)
The Broken Orchestra
2007
Sound installation
URO, IMO Projects, Copenhagen, 2011
Volume: Experiments with Sound and Video, The 3rd Ward, New York, 2007
La Ciudad Invisible de Radio 3 de Radio Nacional de Espaņa, Madrid Abierto, Spain, 2008
The Importance of Good Conduct. AC [Institue Direct Chapel], New York, USA, 2009
Arnold Schoenberg famously quipped, "My music is not really modern, just badly played." 'The Broken Orchestra' metamorphoses his complaint into a guiding principle, imposing a musical procedure designed to reduce the proficiency of professional musicians to a primitive state, in the interests of effecting musical discoveries.

Nine musicians on various instruments are asked individually to recreate the sounds found on a 23 year-old cassette recording of Bach's 'Ave Maria' as performed by my brother on violin and me on piano when we were youngsters living in Taiwan.

The original recording is characterized by its youthful performers' wobbliness. The participating musicians' personal memories might be summoned by having to imitate the childish quality. Their musical sensibilities might be challenged by having to respond to this universally known tune in this imperfect and distorted form. As each re-creation is made, the musical qualities translate through each participant's own interpretation of a form of musical simplicity.

The result of the experimentation is a multi-channel sound installation consisting of the original recording layered with re-recreations played back in loop, as if a 'broken orchestra' were performing at once in the past and in the present.

* Very special thanks to: Joshua Camp, Andy Cotton, Kathleen Edwards, Ben Gerstein, Michael Hearst, Kurt Hoffman, Ben Holmes, Meg Reichardt and Pei-Yao Wang.