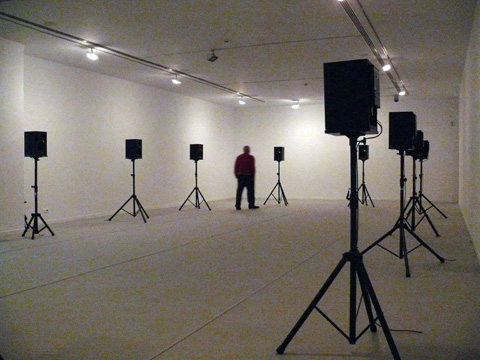 Photo by Javier Lozano
Setting Up the Banquet
2008
Twelve-channel sound installation
In-Presentable, La Casa Encendida, Madrid, Spain
Setting Up the Banquet is twelve-channel sound installation consisting of a kaleidoscopic soundscape orchestrated from recordings I made at Chinese-operated commercial spaces i.e. supermarkets, grocery shops and convenience stores in Madrid over three months.

While there is no Chinatown per se in Madrid, Chinese business permeates every possible corner of the city and provides every neighborhood quotidian necessity. As a Chinese-speaking foreigner inhibited by language barrier, I've come to find communality within this large immigrant community locally. Exploring a vernacular musicality from these socioeconomic, transactional sites, this project embodies a personal experience of social navigation and cultural re-orientation. It constructs a new social space and sonically conjures up a "Chinatown", which is at once familiar and unknown.

Very special thanks to Ramon Mateos, Carlos and More of microFusa in Madrid, Guzman de Yarza Blache, Javier Lozano, Ben Roberts, Lucas Nolla, Javier Nunez Gasco, Xia-Yan Huang, Jonathan Shaughnessy, Chris Mann, Charlie Morrow, Carmen Borgia, Kurt Hoffman, Pei-Fu Chen, Nicholas Elliott, Douglas Henderson and those who kindly help this project made possible.

This project is commissioned by In-Presentable 2008.